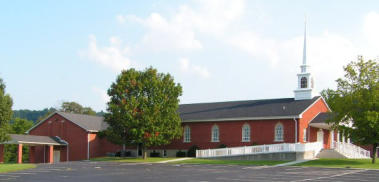 Our Greatest Life in Heaven
John 14:1-6 and Rev. 7:9-17
Heaven is a prepared place. (John 14:1-2)
Trust in Christ makes Heaven a reality.
Assurance of a well-crafted home for eternity.
Heaven is a personal place. (John 14:3-4)
You is personal.
You is a name.
Heaven is a perfect place. (Rev. 7:15-17)
Service for God will be without conflict.
Joy will be ever accumulating.
Painful events will be eternally healed.
LET NOT YOUR HEART BE TROUBLED,
NEITHER LET IT BE AFRAID. YOUR
GREATEST LIFE IS TO COME!  
We are glad you're here!
As our guest, we want to welcome you and say "Thank You" for joining
us in worship today!
How Can I Become a Member of Muldraugh Hill Baptist Church?
By profession of faith and believer's baptism by immersion.
By promise of a letter of recommendation from another
               Baptist church.
By statement of prior conversion experience and believer's baptism through immersion.
Sunday School begins at 10:00am EST with Morning Worship beginning at 11:00am EST.  Evening Worship begins at 6:00pm EST
Wednesday Prayer Meeting begins at 7:00pm EST
For more information you may visit our website at: http://www.muldraughhill.org/
A link to this weeks bulletin: http://www.muldraughhill.org/index_htm_files/Bulletin_20190210.pdf